One of our Clean Green Volunteers from the Cyclades Preservation Fund/British Embassy Fund initiative 
Suzie came to Andros to help the Clean Green Andros Project. Her contribution to the vision for a cleaner and greener Andros was fantastic. She worked for 18  days in total. She collected garbage and nurdles from the beaches of Kourtali, Fellos, Ateni and Zorgos. She also helped clean some of the Andros Routes – path number 9 and the Tromarchia Circular during two Andros Routes maintenance hikes.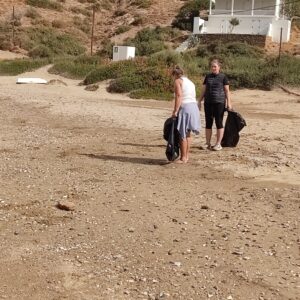 Her other contributions included  mapping and recording all the recycling bins on the island. This action completed a significant project initiative to validate the waste services location information for everyone on Andros. Thanks to Suzie's contribution,  it will be easy to find out where you can recycle anything on Andros as this information will be published on our new website (details coming soon).
Suzie, a Digital Strategy Consultant, also shared her professional knowledge and skills to support the project.
Finally, she participated in a new project research campaign by conducting interviews to find out the views of a few of our Andros locals about waste management.
Suzie, we sincerely thank you! 
Supporting Suzie's trip on Andros, we would like to  thank :
The Cyclades Preservation Fund – Anni Mitropoulou and Kelly Garyfalli for their support and cooperation with  the Cyclades Green Volunteers program
The British Embassy supported by the CPF for the Cyclades Green Volunteers program
Filippos Perrakis for hosting a meeting at Perrakis Hotel
Andros Rent-a-Car and Euro Rent-a-Car for providing better  car rental prices 
The Paint shop Dimitris Vlamis for materials and tools
Tim Newman, Petros Freris, Dimitris & Charlotte Galanou, Maria Karasavva, Maria Theocharidou for the interviews
Want to contribute? 
Become a volunteer for Clean Green Andros  –  email info@androsresearchcenter.org.
Share the article on your Facebook by clicking the notification button at the bottom of the page and help more people find out about the project.